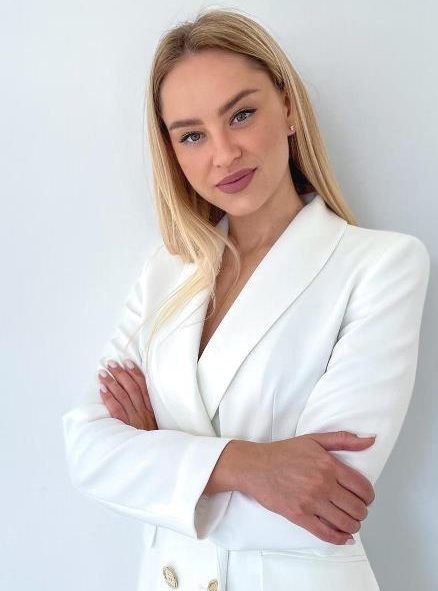 I am a cosmetologist by training. I have been involved in cosmetology for 9 years and permanent makeup as an art form has always been of particular interest to me. Using the knowledge and skills I have gained over the years, I continue to explore the art of permanent makeup. Graduated studies, numerous courses and additional training have given me multidirectional knowledge necessary to perform treatments on such delicate subjects as appearance and beauty. I regularly train with the best permanent makeup masters in Russia. Contrary to prevailing stereotypes, my knowledge about makeup comes from the East, not the West. Permanent makeup is a huge amount of knowledge that I regularly try to deepen.
Testimonials from my customers
Byłam u pani Anastazji na makijażu permanentnym ust. Balam się bólu po poprzednich doświadczeniach, ale było naprawdę znośnie- nie ma się czego bać, ból jest niewielki. Efekt- rewelacja, mega precyzyjna robota, usta idealnie wypełnione, kolor ekstra. Naturalny efekt, a jednak widać, ze coś się zmieniło i cała twarz wyglada lepiej. Sama pani Anastazja bardzo miła i profesjonalna, wszystko tłumaczy, słucha oczekiwań klientek. Bardzo, bardzo polecam! Wrócę jeszcze na brwi 🙂
Anna Szczepańska
2022-01-18
Jestem bardzo zadowolona z pracy pani Anastazji.Brwi super👍
Danuta Szymanska
2022-01-18
Polecam z całego serca - makijaż permanentny brwi jaki wykonała Pani Anastazja jest idealny. Usługa na najwyższym poziomie.
Nawojka Łuczak
2022-01-18
Fantastyczna pani Anastazja, profesjonalna i posiadająca olbrzymią wiedzę. Polecam zdecydowanie!!!!!
Marlena Szczepańska
2022-01-11
Brwi i usta wykonywane przez Anastazję są piękne. Pełen profesjonalizm, przez co nie miałam żadnych obaw. Wszystkim serdecznie polecam 🥰
Karolina Hildebrant
2021-12-04
Ich bin mit dem Permanent Makeup (Powder Brows und Lippen) super zufrieden und glücklich 🙂 Es wurde individuell auf mich abgestimmt. Anastasia hat einen sehr guten Sinn für Ästhetik und passender Farbberatung. Der weite Weg von Deutschland lohnt sich. Ich komme gerne wieder und kann Anastasia besten Gewissens weiterempfehlen! Danke 🙂
Katarzyna Kwolek
2021-09-26
Bardzo bardzo polecam. Jeśli ktoś się jeszcze zastanawia to zapewniam, że nie ma nad czym. Pełen profesjonalizm. Brwi zostały wykonane perfekcyjnie. Jestem bardzo zadowolona i szczerze mogę polecić.
To see my latest work, learn about my latest training or promotions follow my profiles :
  If you have any questions about the permanent makeup service or would like to learn more about the training, feel free to write! I will try to respond as soon as I can.