eyebrow tattoo GDANSK🇬🇧🇪🇺 🇵🇱
Permanent eyebrow makeup is an increasingly popular procedure that is gaining many followers. If you have light and sparse eyebrows, you can certainly opt for it. Permanent eyebrows are a method that allows you to boost your confidence and love your reflection in the mirror. You can get this treatment at a much lower price by travelling to Gdansk.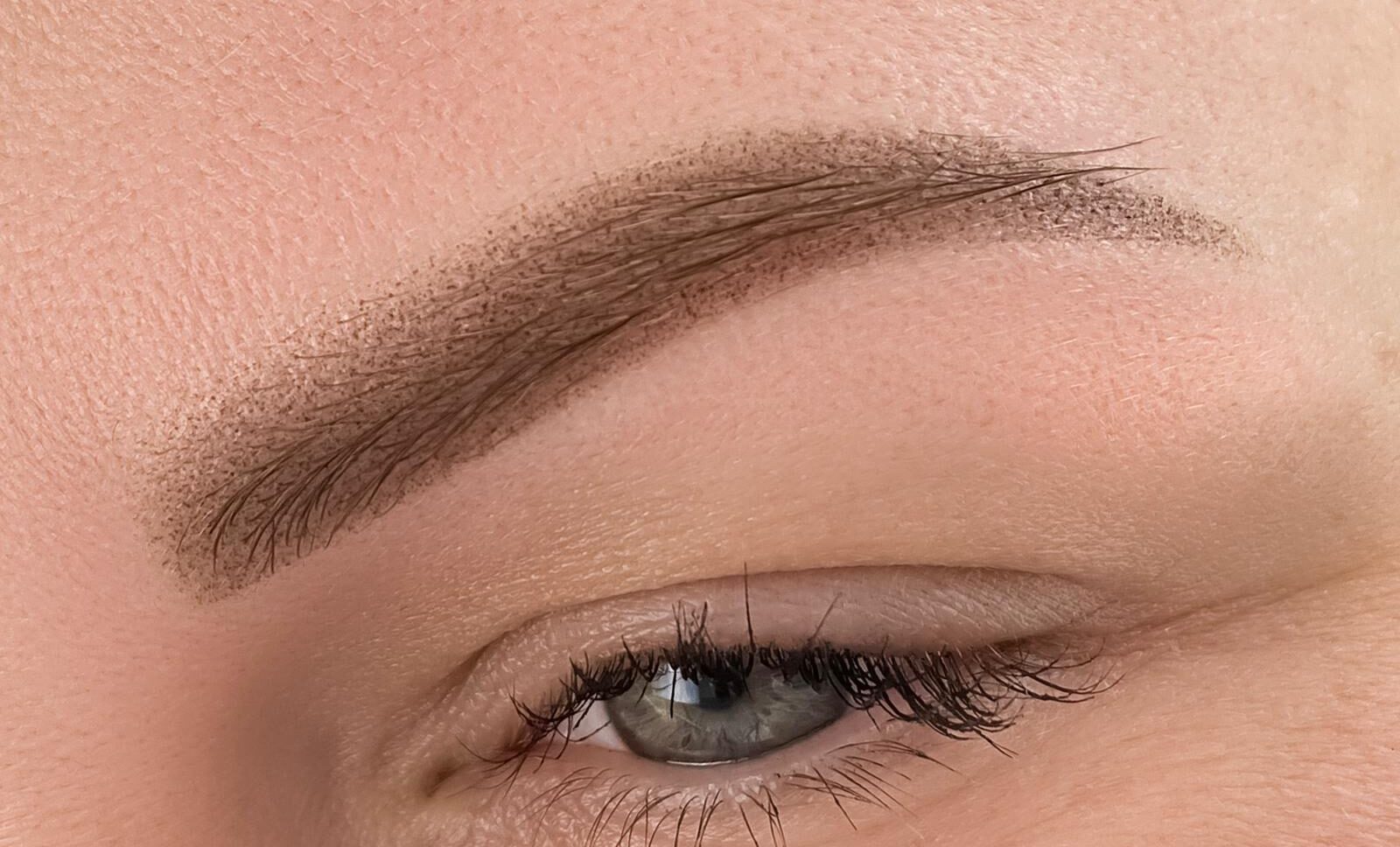 Fly to Gdansk🇵🇱 and get your eyebrow tattoo done at a much lower price and premium quality
Cost of tattooed eyebrows
450 EUR🇪🇺
Cost with me 196 EUR 🇵🇱
full price list below
What does the treatment look like?
Permanent make-up is based on putting pigment into the epidermis so that it stays there and is visible on the skin surface (it is similar to a tattoo on the body but is more superficial, which makes the pigmentation less painful). This procedure guarantees a long-lasting make-up that lasts for 6 months up to several years, so it is important that it is done carefully and precisely.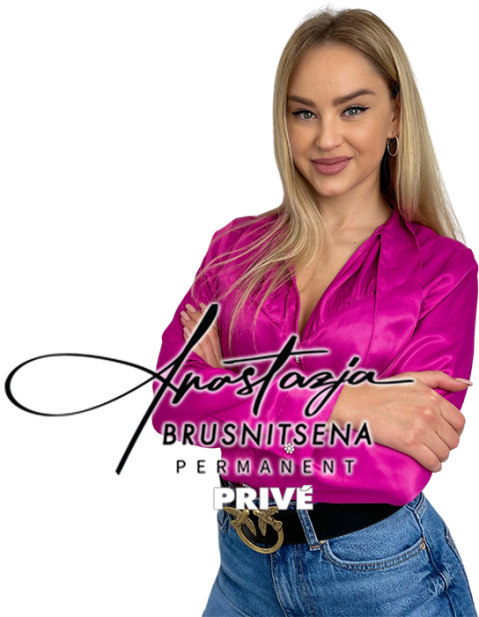 Does permanent makeup hurt?
The question of pain is very individual. It also depends on the technique we use for makeup, age, skin condition and many other factors. The meeting starts with an interview where I ask about all the details of health and expectations of the final result. I present examples of work, different types of permanent make-up, explain the different steps of the procedure and reassure any concerns.
I have to admit that I felt calmer when I found out that the treatment does not hurt at all and that some clients can even fall asleep during the treatment.
Of course, I often use a very effective local anaesthetic to avoid any unnecessary discomfort that may occur during the procedure.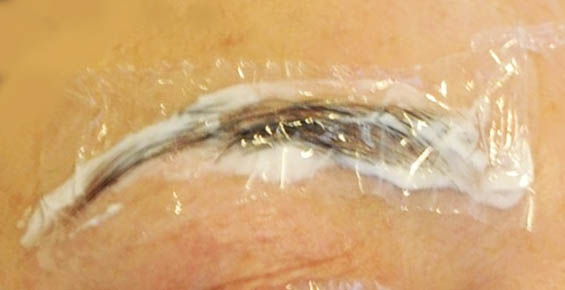 Photo gallery
(black cat is my former name)
Other services in my salon
Reduction of dark circles under the eyes using the Lumi Eyes tissue stimulator 1750 NOK 175 EUR. Use of platelet-rich fibrin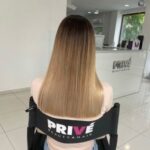 Hairdressing salon - hair coloring 75 - 130 EUR . Hair extensions, keratin smoothing 60-130 EUR. Read more
Laser hair removal without pain. The cost of laser hair removal of the full leg is 1100 NOK , 110 EUR. Read more
CHOOSING THE SHAPE OF PERMANENT EYEBROWS
Sometimes we see women on the street with fair skin and jet-black, heavily accentuated eyebrows that don't blend in naturally. Sometimes we've seen well-done permanent eyebrows on a friend and we'd like the same thing. However, a good liner specialist may advise against such a solution, as what we think is appropriate does not necessarily match our beauty pattern.
Makeup for a blonde is different than for a brunette, so don't focus on general online trends, let a professional take care of you and match the pigments to your skin tone and individual character.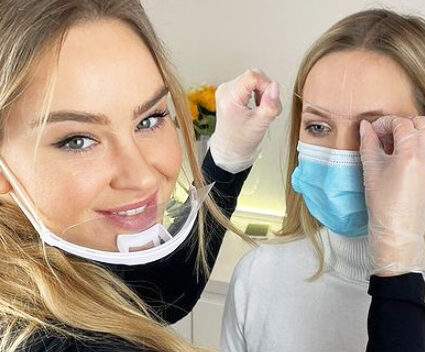 PERMANENT EYEBROWS – METHODS. WHICH ONE SHOULD I CHOOSE?
Before you decide to have permanent eyebrows done, it is important to choose the right method for them. Remember that during the consultation I will try to choose the right type of eyebrows for your beauty and style.
Read below about the most popular methods:
PERMANENT EYEBROWS – OMBRE
The ombre method involves injecting a pigment of varying colour intensity under the skin. This technique produces a gradual colour effect, from the lightest root to the darkest tip. Thanks to this, the upper, light edge of the eyebrows is gently blurred, while the lower one is precisely accentuated, still giving a natural, but much more expressive effect.
PERMANENT EYEBROWS – POWDER METHOD
It is a method that involves inserting pigment just below the epidermal surface. This is a method of pigmentation that does not create a colour gradient, but gives a light and fine effect.
PERMANENT EYEBROWS – THE HAIR METHOD
Permanent eyebrow make-up with the hair method involves drawing on the eyebrow arch in such a way that it resembles natural eyebrows. The linergist applies individual lines to the skin in a shape that resembles natural hair. The hairs are then outlined with a liner to form a uniform whole.
How do permanent eyebrows heal?
It takes about two weeks for the eyebrows to heal. For example, while your eyebrows are healing, you should not expose your face to UV light, so avoid tanning beds and sunbathing. You should also avoid scraping off any crusts, as you risk getting unsightly scars. This can also lead to infections. During the brow healing period, avoid saunas, swimming pools and jacuzzis – microbes found there can also contribute to infections. A liner specialist can tell you which preparations can ruin the colour of eyebrows after permanent make-up. Avoid antibiotics in ointments if possible – they negatively affect pigmentation. You should also avoid sleeping on your stomach after the procedure – or rather "on your eyebrows", as rubbing your eyebrows against a pillow is unfavourable. It is also not allowed to apply additional make-up – powder the eyebrows, correct their contours with a pencil or pomade. Physical activity that causes sweating on the face is not recommended.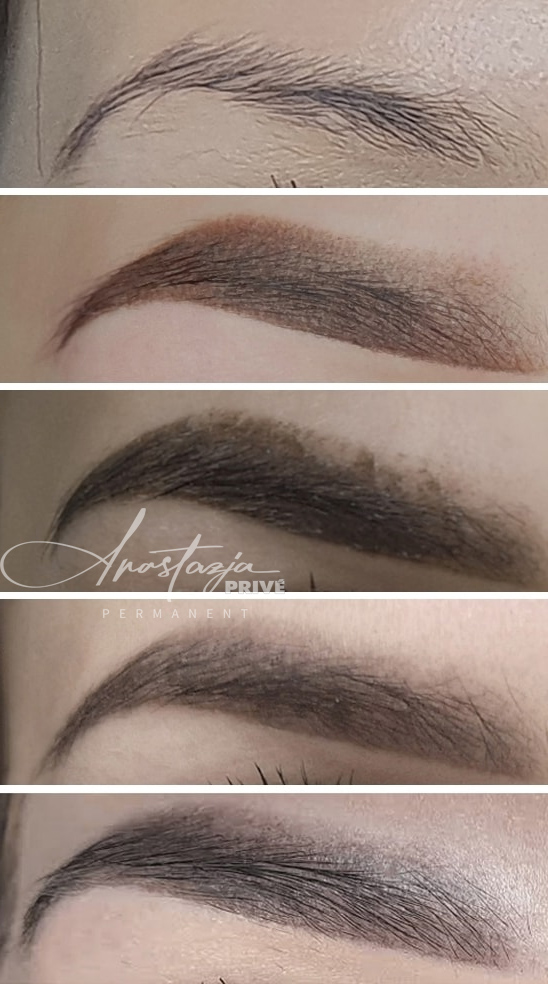 How to take care of eyebrows after permanent makeup?
With proper care, the effect of eyebrow make-up is long-lasting and aesthetically pleasing. The final appearance of eyebrows after the procedure depends on recommendations for care, avoidance of sunlight and good hygiene. Detailed information on care is available HERE
Do your eyebrows turn red or blue?
You are often asked why your eyebrows are red, orange, grey or blue?
Choosing the right pigment is very important, as is the technique used and many other small factors such as your skin colour.
How do I know if the pigments are really good? It's certainly not an easy task, and that's what separates professionals from amateurs. I have invested a lot of time and money in my training with the best trainers so that I can use their knowledge and not make mistakes on my own clients!
How long do permanent eyebrows last?
Permanent eyebrows retain their shape and colour for about two years, but you should expect that the pigment will need to be replenished at least once during a correction visit. It is also worth remembering that the durability of make-up depends not only on the technique and ingredients used, but also on individual conditions and skin care. Pigment may fade more quickly, for example, in people who frequently go to the solarium or who use exfoliating preparations in their skin care.
Correction of eyebrows
Permanent make-up is a convenient solution that guarantees a long-lasting effect, but requires taking the right steps. Remember that this method produces visible and long-lasting changes in the skin, so it is important to think carefully and consciously about the look you want to achieve. And that's exactly what retouching is for! Permanent make-up is a process of gradually achieving a satisfactory effect. Keep in mind that between 40 and 70% of the colour remains on the skin after the first treatment. During retouching, you can, if you wish, cool or heat it. This is a comfortable and safe solution that protects you from unpleasant disappointments.
When is the best time for makeup correction?
Permanent makeup is completely painless thanks to local anaesthesia. But it is still linked to direct intervention on the skin. Small irritations are an inseparable part of the process, during which the epidermis needs time to regenerate. This is a completely natural part of the whole process and there is no need to be afraid of it. These changes will not be so visible that you have to hide from the world.
However, you should wait until your skin has breathed, rebuilt itself and is ready for its next beautification before booking your next appointment. You should wait 30 days for the epidermis around your eyebrows to heal completely. Therefore, it is best to have your permanent makeup updated within a maximum of 60 days from the date of your first treatment with a linergist in Gdansk.
Is it compulsory to correct make-up?
It is not always mandatory to correct permanent eyebrow makeup. However, it is almost always recommended to refine, enhance or make any corrections. It is therefore best to consult with the most competent person, i.e. the liner specialist who performed the procedure.
After an appropriate period of time, she will indicate whether a correction is necessary. However, it should be remembered that each client has a different skin type and therefore a different reaction to healing. Also, the liner specialist cannot always insert the pigment perfectly and evenly under the skin, which is why the correction is so important, as any imperfections are completed. You can read more about this topic HERE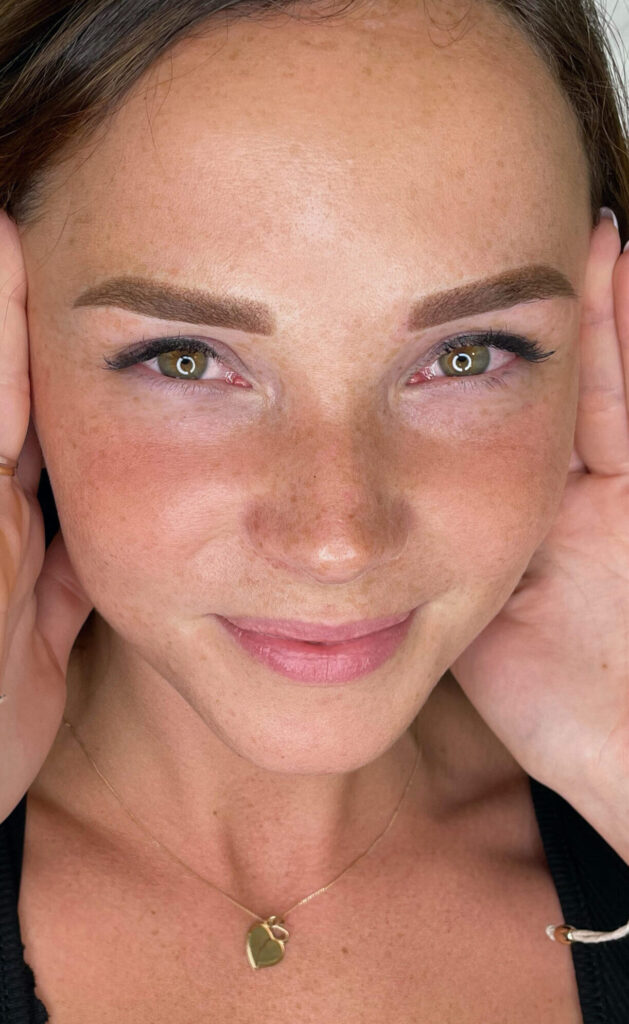 Price
Permanent
make-up - PRICE
| PERMANENT EYEBROW MAKEUP | PRICE |
| --- | --- |
| PERMANENT EYEBROW MAKEUP (HAIR TECHNIQUE) | 260 EUR |
| PERMANENT MAKEUP OF EYEBROWS (POWDERED BROWNS) | 260 EUR |
| PERMANENT EYEBROW MAKEUP (HAIR TECHNIQUE + SHADOW) | 330 EUR |
| REFRESHMENT OF MAKEUP AFTER A YEAR PERFORMED IN OUR SALON | 50% of regular price * up to 1.5 years |
| POST-PIGMENTATION FOR UP TO 3 MONTHS | 30 EURO |
For each permanent treatment you receive LASER DEPILATION of the armpits free of charge!
Normal price 249 zł – 1 treatment.
PERMANENT EYEBROW MAKEUP - OUR CUSTOMERS' OPINIONS
Byłam u pani Anastazji na makijażu permanentnym ust. Balam się bólu po poprzednich doświadczeniach, ale było naprawdę znośnie- nie ma się czego bać, ból jest niewielki. Efekt- rewelacja, mega precyzyjna robota, usta idealnie wypełnione, kolor ekstra. Naturalny efekt, a jednak widać, ze coś się zmieniło i cała twarz wyglada lepiej. Sama pani Anastazja bardzo miła i profesjonalna, wszystko tłumaczy, słucha oczekiwań klientek. Bardzo, bardzo polecam! Wrócę jeszcze na brwi 🙂
Anna Szczepańska
2022-01-18
Jestem bardzo zadowolona z pracy pani Anastazji.Brwi super👍
Danuta Szymanska
2022-01-18
Polecam z całego serca - makijaż permanentny brwi jaki wykonała Pani Anastazja jest idealny. Usługa na najwyższym poziomie.
Nawojka Łuczak
2022-01-18
Fantastyczna pani Anastazja, profesjonalna i posiadająca olbrzymią wiedzę. Polecam zdecydowanie!!!!!
Marlena Szczepańska
2022-01-11
Brwi i usta wykonywane przez Anastazję są piękne. Pełen profesjonalizm, przez co nie miałam żadnych obaw. Wszystkim serdecznie polecam 🥰
Karolina Hildebrant
2021-12-04
Ich bin mit dem Permanent Makeup (Powder Brows und Lippen) super zufrieden und glücklich 🙂 Es wurde individuell auf mich abgestimmt. Anastasia hat einen sehr guten Sinn für Ästhetik und passender Farbberatung. Der weite Weg von Deutschland lohnt sich. Ich komme gerne wieder und kann Anastasia besten Gewissens weiterempfehlen! Danke 🙂
Katarzyna Kwolek
2021-09-26
Bardzo bardzo polecam. Jeśli ktoś się jeszcze zastanawia to zapewniam, że nie ma nad czym. Pełen profesjonalizm. Brwi zostały wykonane perfekcyjnie. Jestem bardzo zadowolona i szczerze mogę polecić.
Or ? ? ?
You frequently ask
Doubts about whether it's safe discourage many men and women from using permanent makeup treatment. The procedure is generally considered safe. It carries similar risks to getting a tattoo. The most serious infections can result from improperly disinfected tools and equipment. Therefore, it is best to use a competent, qualified and certified specialist when choosing to use permanent makeup.
According to the dictionary, the word "permanent" means "lasting, uninterrupted, continuous". Most people think that once permanent make-up has been applied, it will be visible forever, just like a tattoo. But that's not true!
It is very permanent compared to traditional makeup. The effects of a well-executed permanent makeup last for about a dozen months, after which they fade and disappear altogether.
Immediately after the treatment, the make-up is strong and looks unnatural, but after a few days the pigment loses its intensity. For this procedure, it is recommended to re-pigment after several days, i.e. to supplement the colour. It all depends on the type of pigment used, the make-up technique used, the condition of the skin and how it is cared for. Permanent eyebrow make-up lasts the shortest, on average 1.5-2 years.