Your lips can look great around the clock without having to touch up your makeup after eating, playing sports or kissing. You no longer have to remember about lip liners and colored lipsticks that often dry out the skin on your lips, making daily lip care difficult. Together we will choose for you the color in which you will look your best. You will refresh it with one stroke of a lip gloss, without the need to look in the mirror.
Permanent Lip Makeup – Sensual and perfect lips permanently
Do you dream of voluptuous lips that will attract the eyes of men and arouse envy among women? Do you have one or more lipsticks in your handbag and you're constantly touching up, trying to even out your lip line and give them the perfect color? Now you can forget about lip liners, lipsticks and constantly touching up your makeup. Now your lips can be perfect at any time! Permanent lips mean freedom and beauty.
lip tatoo. Everything you need to know about it
More and more women are opting for permanent lips to enhance their natural beauty. Some ladies still have many concerns. We think we don't have time to make an appointment because our lives are constantly consumed with work, home, children, shopping and extra activities. Every woman struggles with the same challenges of daily life. It is good to do something for yourself from time to time, and permanent is the perfect solution. The procedure takes about 2 hours and on average once a year it needs to be refreshed. Each of us can certainly find that much time. Most importantly, you won't have to do your makeup every day, so you save time for the future!
tatoo lip stick- Does it hurt?
Does permanent lip makeup hurt? This is a very common question asked by clients prior to treatment. The answer to this question is yes. Lip makeup can be a little painful, but the pain experience is different for each of us. Everyone has a different pain threshold. This is why I hear very different opinions about pain from my clients. After a permanent makeup procedure we very often hear the statement: "It doesn't hurt at all", in many cases my clients simply fall asleep during the procedure. I always try to make the procedure painless, so before the procedure I apply an anesthetic ointment to the lips.
Contraindications to permanent lip makeup
Permanent makeup treatment cannot be performed if the client has any of the following contraindications:
bacterial, viral or fungal infections,
epidermal damage in the area of
pigmentation,
pregnancy and lactation,
radio- or chemotherapy,
menstruation,
hemiplegia,
fresh scars,
sunburn,
inflammation,
skin petechiae,
immunosuppression, infections, fevers,
How to prepare for a permanent lip makeup procedure?
Use gentle soap and water or mild facial gels a few days before the procedure. Do not use greasy creams, only moisturizers.
Before treatment
Do not use waxing, epilator or laser hair removal one week before the procedure. If you suffer from herpes, you must take a prescription medication (such as heviran) 3 days before and 3 days after the procedure. Do not take medications or substances with blood-thinning effects (aspirin, ibuprofen, benadryl, alcohol, caffeine) the day before the procedure. ADVIL should be taken at least 2 weeks before the procedure. You can take calcium and vit. C, but not vit. E! Herbal teas with lemon balm are recommended.
PERMANENT LIP MAKEUP – THE PROCEDURE
Before any action is taken, the first step is to discuss and rule out any contraindications to permanent lip makeup and fill out an informed consent for the procedure. After completing the interview with the specialist and filling out the consent for the procedure, we can move on to the next, extremely important stage. This is a thorough and detailed discussion of the client's preferences and expectations. Sometimes at this stage there is a discrepancy between the client's vision and the generally accepted standards of permanent makeup and liner aesthetics. In this situation it is best to trust the specialist, as he has experience and years of practice. However, the final decision is always up to you.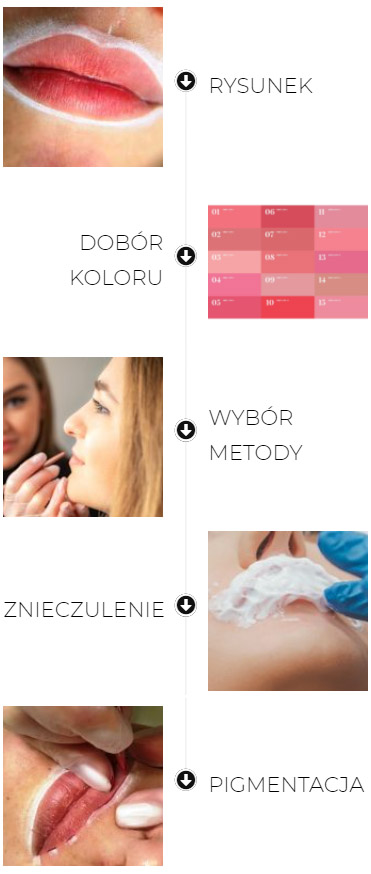 Perfect lip shape and contour
Permanent lip makeup is the perfect contour for your lips:
even out asymmetry of the lips,
enlarge them slightly,
slightly reduce the size of lips and emphasize their line.
In many women the contour of the mouth is blurred and uneven. Very often, after a herpes outbreak, the contour fades, blurs and changes the shape of the lips. A properly selected type of permanent lip makeup is designed to give the right shape of lips that emphasizes and brings out the beauty of a woman.
After treatment
Pmu makeup is a procedure that permanently gives your lips great color and shape. However, during the procedure, the delicate flesh and skin of the lips are affected and swell easily. Immediately after the procedure, your lips will be slightly larger than usual (slightly swollen) and the skin around them will be red. How much will they swell? You will find out during the procedure because it is a very individual thing. Sometimes the lips swell hardly at all, and other times the swelling is quite significant. The degree of swelling and sensitivity of the lips also depends on the makeup technique. There are many methods of applying makeup on the market. When performing the procedure, linergists inject pigment into the skin using different methods and to different depths. This is all what affects the condition of the lips after the procedure.
Permanent lip makeup – healing
With permanent lip makeup, healing and a return to "normalcy" occurs in about 14 days. Around day 3 of the procedure, the lips begin to peel. Within about 7 days, their color will become lighter. At the second visit to the office, after 3-4 weeks, the makeup is refilled. Well done makeup lasts in the skin about 2-4 years, but every year it is worth to supplement the pigment, so that the color is still intense.
Permanent lip makeup – aftercare
After your lip makeup procedure, it is a good idea to take Heviran for 3 more days to protect against herpes outbreaks. Remember to take special care of the area around your lips. Do not wet, rub or touch your lips. Take care of their hygiene. Do not wash them with soap. Use only cosmetics recommended by your linguist. Moisturize your lips several times a day and apply vitamin E cream to them. Use only children's toothpaste for the first 2 days. Read more about the healing of lips after permanent makeup HERE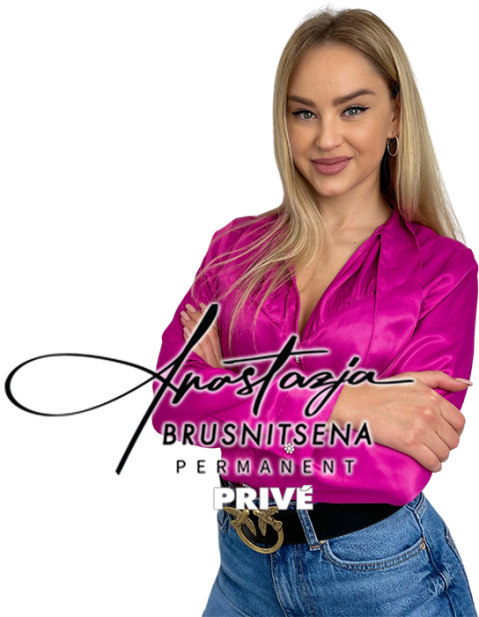 Other services in my salon
Reduction of dark circles under the eyes using the Lumi Eyes tissue stimulator 1750 NOK 175 EUR. Use of platelet-rich fibrin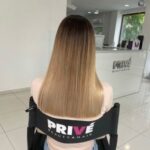 Hairdressing salon - hair coloring 77 EUR-130 EUR . Hair extensions, keratin smoothing up to 130 EUR. Read more
Byłam u pani Anastazji na makijażu permanentnym ust. Balam się bólu po poprzednich doświadczeniach, ale było naprawdę znośnie- nie ma się czego bać, ból jest niewielki. Efekt- rewelacja, mega precyzyjna robota, usta idealnie wypełnione, kolor ekstra. Naturalny efekt, a jednak widać, ze coś się zmieniło i cała twarz wyglada lepiej. Sama pani Anastazja bardzo miła i profesjonalna, wszystko tłumaczy, słucha oczekiwań klientek. Bardzo, bardzo polecam! Wrócę jeszcze na brwi 🙂
Anna Szczepańska
2022-01-18
Jestem bardzo zadowolona z pracy pani Anastazji.Brwi super👍
Danuta Szymanska
2022-01-18
Polecam z całego serca - makijaż permanentny brwi jaki wykonała Pani Anastazja jest idealny. Usługa na najwyższym poziomie.
Nawojka Łuczak
2022-01-18
Fantastyczna pani Anastazja, profesjonalna i posiadająca olbrzymią wiedzę. Polecam zdecydowanie!!!!!
Marlena Szczepańska
2022-01-11
Brwi i usta wykonywane przez Anastazję są piękne. Pełen profesjonalizm, przez co nie miałam żadnych obaw. Wszystkim serdecznie polecam 🥰
Karolina Hildebrant
2021-12-04
Ich bin mit dem Permanent Makeup (Powder Brows und Lippen) super zufrieden und glücklich 🙂 Es wurde individuell auf mich abgestimmt. Anastasia hat einen sehr guten Sinn für Ästhetik und passender Farbberatung. Der weite Weg von Deutschland lohnt sich. Ich komme gerne wieder und kann Anastasia besten Gewissens weiterempfehlen! Danke 🙂
Katarzyna Kwolek
2021-09-26
Bardzo bardzo polecam. Jeśli ktoś się jeszcze zastanawia to zapewniam, że nie ma nad czym. Pełen profesjonalizm. Brwi zostały wykonane perfekcyjnie. Jestem bardzo zadowolona i szczerze mogę polecić.
Price
lip
tatoo - PRICE LIST
| PERMANENT EYEBROW MAKEUP | PRICE |
| --- | --- |
| PERMANENT EYEBROW MAKEUP (HAIR TECHNIQUE) | 260 EUR |
| PERMANENT MAKEUP OF EYEBROWS (POWDERED BROWNS) | 260 EUR |
| PERMANENT EYEBROW MAKEUP (HAIR TECHNIQUE + SHADOW) | 330 EUR |
| REFRESHMENT OF MAKEUP AFTER A YEAR PERFORMED IN OUR SALON | 50% of regular price * up to 1.5 years |
| POST-PIGMENTATION FOR UP TO 3 MONTHS | 30 EURO |
Doubts about whether it is safe deter many men and women from using the permanent makeup procedure. The procedure is widely considered to be safe. It carries similar risks as getting a tattoo. The most serious infections can occur through improperly disinfected tools and equipment. Therefore, when deciding to perform a permanent makeup procedure, it is best to use the services of a competent, qualified and certified specialist.
According to the dictionary, the word "permanent" means "permanent, uninterrupted, continuous". So, most people may think that once permanent makeup is applied, it will be visible forever, just like a tattoo. However, this is not true!
It is very permanent compared to traditional makeup. The effects of a well done permanent makeup last for about a dozen months, after which time they fade and disappear completely.
Immediately after the procedure the makeup is strong and looks unnatural, but after a few days the pigment loses its intensity. In the case of this procedure, it is recommended to carry out re-pigmentation, or supplementation of color, after several days. It all depends on the type of pigment used, the makeup technique, as well as the condition of the skin and its care. Permanent eyebrow makeup lasts the shortest, on average 1.5-2 years.
To see my latest work, learn about my latest training or promotions follow my profiles :